Vinyl Siding
Vinyl siding is the most common and popular siding material in Canada these days. It's a relatively inexpensive solution that provides outward appeal, requires little or no maintenance, and its color-choice is limited only to imagination. There is no risk of colors getting scratched, as the vinyl itself is dyed instead of painted, and multiple styles and widths are available, including shakes and shingles. Installation of vinyl siding takes less time than installation of traditional cedar siding so money can also be saved on labour expenses.
There are many other reasons why vinyl siding has become such a popular choice. It gives the warm appearance of wood without the worry of splitting, peeling or rotting. No scraping, repainting or stain is required, and all that is required to keep it clean for years to come is a hose.
Benefits of Vinyl Siding
No painting required
Easy to clean
Wide variety of colors and tones
Many different styles, including lap, scallops, shakes, fish scales etc.
Insulated vinyl siding with foam backing for energy efficiency
Llasts for decades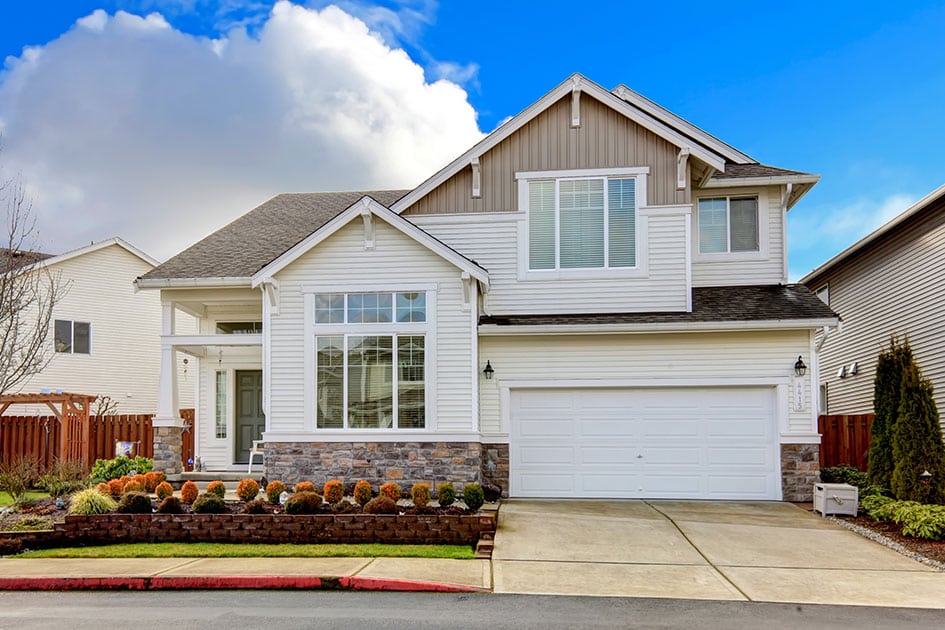 Home-owners prefer vinyl siding not only for its durability, but also for its beauty. It is available in many colors and designs, and it provides a home owner complete control of design. Vinyl siding was at first produced primarily in pastel or earth tones, but now the full color spectrum is available, enabling people to choose something unique. Though vinyl will fade over time, the rate is much slower than painted wood, and since visible scratches are not an issue, touch up is not necessary.
Types of Vinyl Siding
There are numerous patterns of vinyl siding to choose from. Among them are board vinyl, brick-like vinyl, wood vinyl, vertical, stone, or traditional. Today's technology is capable of producing vinyl that looks just like stone or wood, even upon close inspection. It's also very cost effective when compared with alternatives such as hardie siding or cedar siding.
Vinyl is warranted against rot or peel, and it never needs to be painted. It is a synthetic product available in whatever color and  thickness you prefer. The thicker the panel, the more durable it is and longer it lasts.
Though your home may look decrepit with decades-old paint, vinyl can quickly make your house the most appealing on the block. It can cover brick, stone, wood, or concrete, and the entire process can be completed quickly and professionally by Siding Edmonton. New siding will increase the value of your home significantly, which makes it a wise investment if you should decide to sell a house. Vinyl will make your home more energy-efficient, and will appear more stylish and personal, the way it felt when you first built or bought it.
Insulated Vinyl Siding
Not so long ago, vinyl manufacturers introduced insulated vinyl that comes with a backing board to keep the hot or cold away. Insulated vinyl siding is the best of two worlds, combining the durability and low maintenance of vinyl with the thermal qualities of foam. This combination is capable of increasing the insulation value of exterior walls by more than 30%. The foam inlay also acts as siding support, thus adding more durability to your vinyl, and it provides a sound barrier that makes your home more sound-proof. Though a little more expensive than uninsulated vinyl, the added value in terms of comfort and energy savings is unquestionable.
Here are the benefits of insulated vinyl:
The usual benefits of vinyl siding; e.g. low maintenance, attractive, etc.
Increases the insulation-value of a home, lowering energy costs
More durable than non-insulated vinyl siding
More sound-proof
Vinyl Siding Installation
You can't go wrong with vinyl siding. It's durable and easy to maintain. However it can be difficult to install. With the help of Siding Edmonton experts, you can be confident that your new siding will be installed correctly and your home will look as good as a new one.
Edmonton | Strathcona County | St. Albert | Parkland County | Spruce Grove
Leduc | Sturgeon County | Fort Saskatchewan | Stony Plain | Beaumont
Call us to get a free quote:
587-855-5202
Or E-mail:
info@SidingInEdmonton.com